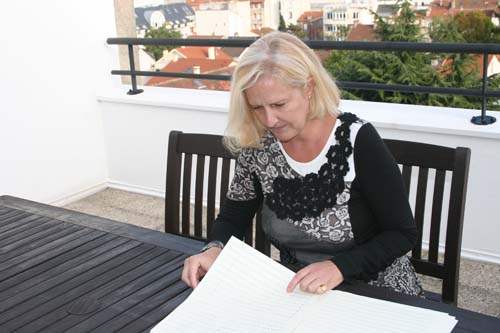 Born in 1962, Florentine Mulsant studied at the Conservatoire National Supérieur de Musique in Paris the traditional disciplines (harmony, counterpoint, fugue, analysis and orchestration) and at the Schola Cantorum, where she won the 1st Prize in composition in 1987 with Allain Gaussin. she followed the instructions of Franco Donatoni at Academia Chigiana in Siena (Italy) and perfected with Alain Bancquart.
From 1991 to 1998, she was teaching harmony and counterpoint at the University of Paris IV-Sorbonne. In 2011, she won the Nadia and Lili Boulanger Prize from the Académie des Beaux-Arts.
Winning many international competitions of composition, many of her works are commissioned and performed by great soloists and orchestras (Lise de la Salle, Quatuor Debussy, Quatuor Manfred, Quatuor Terpsycordes, Quatuor Gaia, Quatuor Akilone, Vahan Mardirossian, Laure Favre Kahn, Lyonel Schmit, Hélène Schmitt, Henri Demarquette, Raphael Pidoux, Boris Andrianov, Florent and Frédéric Audibert, Xavier Gagnepain, Marc Coppey, Laurent Korcia, Anne Queffélec, Romain Leleu, Lise Berthaud, Adam Laloum, Yan Levionnois, Eric Crambes, Nathanael Gouin, Alexandre Chabod, Thierry Barbe, Marie Catherine Girod, Jean Baptiste Fonlupt, Lydia Jardon, Françoise Gnéri, Jean- Louis Beaumadier, Ensemble Sequenza 9.3, Orchestre Philharmonique de Radio-France, Orchestre Colonne, Orchestre National d'Île-de-France, Orchestre de Chambre de Genève, Orchestre National de Chambre d'Arménie, Orchestre des Pays de Savoie, Orchestre National de Caen, Orchestre Philharmonique de Trêves, Orchestre Symphonique de la Radio de Prague) and in major international festivals in France (Festival d'Auvers-sur-Oise, Festival d'Ambronay, Festival de la Roque d'Anthéron, Festival Cello Fan, Festival Musiciennes à Ouessant, Festival des Arcs,Festival Cordes en Ballade, Festival Fractales, Festival Présences, Festival Radio-France Montpellier, Festival de Chaillol), Germany (Beethoven Festival in Bonn), Switzerland, United States, in Taiwan and Chile. The French music label Triton included one of her compositions on the CD Musique Française au Féminin. In 2007 the label Ar Re-Se published a monographic CD with her chamber music works with the Cello Sonata op. 27 played by Henri Demarquette. In 2011 she was awarded to the Prix Nadia et Lilli Boulanger of the Académie des Beaux-Arts.
Her discography includes a CD of chamber music (Ar Ré-Sé, 2007), a contribution to the CD Musique Française au féminin (Ensemble Latitudes, Triton, 2012) and the First String Symphony and the 24 Preludes for piano (Maestria, 2013). In 2016 were published her three Fantaisies op. 48 for violin and harp (Animato) and her Sonata for double bass and piano op. 52 (Triton). In 2017 were published a CD of chamber music (AR Ré-Sé, 2017), recorded during the Ouessant Festival as well as the Suite for String orchestra op 42 recorded in Armenia. This CD was selected for the twentieth Grand Prix Lycéen des Compositeurs
In 2018, there was a CD (Maguelone 358408) of music for solo violin recorded by Hélène Schmitt giving a link with the composer Johann Georg Pisendel (1687-1755).
In 2019, a new cd with her Concerto for Piccolo played by Jean- Louis Beaumadier is available at Skarbo.
In 2015, she is appointed as Composer in Residence at Marseille National Conservatory.
From 2013 to 2016, she was the Vice President of the Symphonic Music Commission in the SACEM.
In 2018, she was invited as composer en résidence at the Festival des Arcs.
In 2019, she has been decorated as Chevalier de l'Ordre des Arts et Lettres by the Ministre de la Culture.
2019 : Grand Prix Sacem, Composer of the year in Classical Contemporary Music.
In 2020, a double CD of her piano works is published at AR RE SE.
2021 : new Cd published by Skarbo with two works for piccolo.
2022 : She is appointed as Composer en Residence at the Festival Cordes en Ballade around her six String Quartet.
If she is influenced by the French School of the 20th century, particularly Claude Debussy, Maurice Ravel, Olivier Messiaen and Henri Dutilleux, Florentine Mulsant's musical style is characterized by a great expressiveness, a real freedom in language and the clarity of the musical form.